This past week I had one of the more profound experiences of community while visiting my hometown of Port Angeles, WA. Community is defined as a feeling of fellowship with others, as a result of sharing common attitudes, interests, and goals. The power of community in our personal lives, our businesses, and other passionate endeavors for me is like putting rocket fuel on an already existing flame.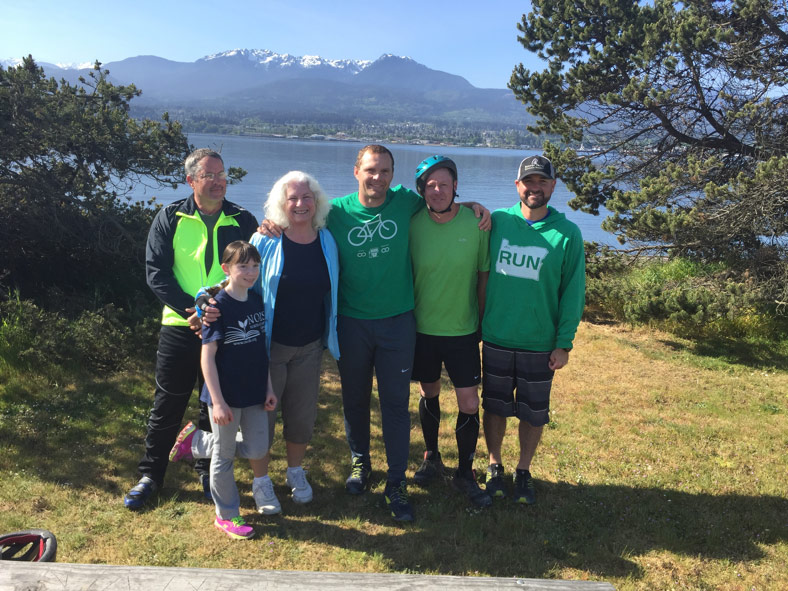 The community I was involved with this past weekend included several crew members (pictured above) who will join me for the upcoming Race Across America in six weeks. Maria Parker, Founder of 3000 miles to a Cure, and her daughter Lucia Parker, also joined in for the festivities, along with my childhood mentors, my family, close friends, and a plethora of local community members. Sharing meals, conversations, many walks, and more coffee and dark chocolate than you would imagine were all part of the healing and blessings of the weekend.
A moment that sticks out to me more than anything was the time we shared at the cemetery near my friend Christina Ahmann Nevill's grave. Christina lived a life of abundance. She was an incredible woman of faith and joy. Almost three years ago she passed away of brain cancer and is remembered not for her death but for the way she lived. As we shared memories and sang songs we watched three eagles play in the background and chirp along almost as if they heard the music and wanted to be a part of it. The experience of turning a location that is usually a place a grief to one where you can experience joy and hope is something I know Christina would smile down upon.
As I prepare for the workweek ahead of me, I am struck by a similar feeling of community with those I do business with. My business partner Nick and I have our weekly Monday check-in and reminisce on the weekend. Then, we make an action plan for the week. I think of our Creative team that we pull into projects, the clients we work with, and the mentors we meet up with. They are all a part of a growing community that we are being incorporated into, while at the same time helping build and guide Lux Virtual as we continue to reach out and connect.
Building a community and being an active contributor is a choice. We are all part of a community in some way. Choosing to thrive in our surroundings takes intentionality, sincerity, and compassion.
Take some time to recognize the communities you have in your life and ask yourself today: "What can I do to contribute and to add depth to each of these relationships?" The deeper our connections, the higher capacity we have to make significant contributions.