As long as I can remember I have connected the idea of great and worthy accomplishments to great risk and struggle. When competing as an athlete I had amazing coaches who convinced me that I wanted to compete against the strongest opponents and also it was better to face them when they were at the top of their game. It's the only way that we can strive to reach our full potential. I learned that during wrestling practice it was our teammates that we constantly competed against that pushed us to be our best.
The matches that I remember aren't the ones where it was over quickly but the ones that I had to fight for and dig into reserves that I didn't know that I had and managed to either squeak out a win in the final seconds or succumb to a defeat that would haunt me the next week in practice as I would train to ensure that I found a way for that particular type of defeat to not happen again in later meet ups. Some of my most memorable experiences from wrestling were facing opponents that had been able to win in previous matches and then after careful training and strategy going into the matches I was able to produce a different outcome at later encounters.
This happens in life as well. If things are handed to us we don't fully appreciate them, we don't need to adjust. It is imperative that we surround ourselves with friends and mentors that push us to be better. When choosing business partners, clients, employees, and many of our daily relationships I continually strive to chose to be around people that are at the top of their game and seeking to improve themselves. It can be intimidating depending on your perspective, but if we value growing then we need to be around people that challenge us to be better and to change. As the Good book says, "wounds from a friend can be trusted but an enemy multiplies kisses." It can be painful to be corrected or to come to the self revelation that we need to grow but it is so very worth it.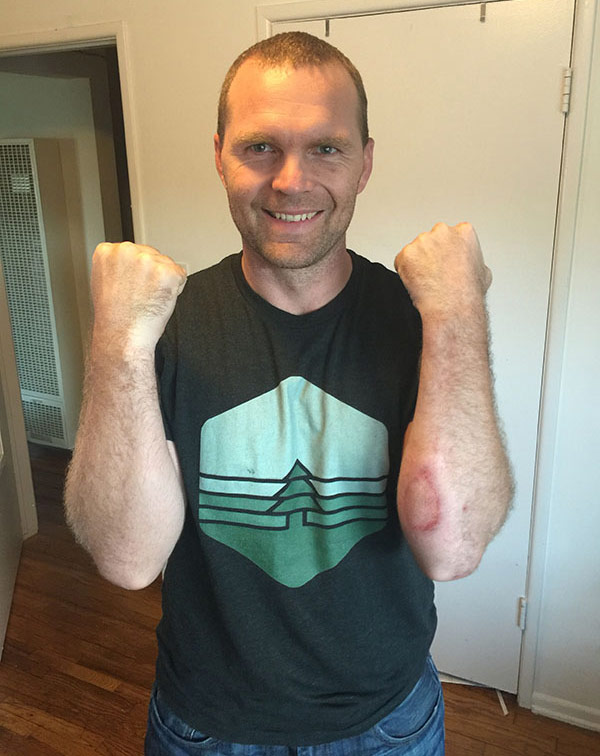 This past week I had the experience of taking my first spill on my new bicycle. I came out of it a little humbled, a little grateful that I only had a little road rash and no major issues and perhaps a little apprehension for future rides. Maybe I need to slow down a little at times, choose different routes with less sand or rocks on the road. The year ahead of me includes a great deal of cycling and training. I need to pursue courses that will push me, make me stronger, and train with partners that do the same. I will take on the risks and lean into the struggle while being mindful to avoid those paths that are hazardous to my growth or to easy and comfortable. Success in business much as success in athletic ventures has as much to do with the people we surround ourselves and allow to influence us as it does our own determination. Choose risks and goals worth taking and make adjustments when you fall.